Batch  Year 2014-15 ( Aryaloka Computer Education, Bhilgaon Nagpur)
Name – Jyoti Komal Borkar
Address – R. K. layout, Plot no 33, Mhada Colony, Nagpur.
Age – 20 yrs as on 2015
Caste – SC
Course attended – MSCIT and Tally
After the successful completion of course he has got job in private company and started earning 6000 Rs. Per month.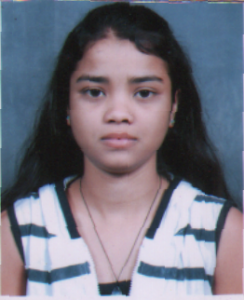 "My name is Jyoti Komal Borkar. I have done my diploma in Polytechnic.  I have two brothers and one sister. My father is ill and he is the patient of high Diabetes and blood pressure. So he always takes medicine. Most of our money spend on medicines of my father."
"In my collage I got one IT subject but I was very scared to learn IT subject.  My father wasn't ready to give me fees to learn MSCIT skills in private institutes. I was desperately looking for when I will get chance to join MSCIT.  Later on I heard about Aryaloka Computer Education that this organization is providing MSCIT course to BPL category students in very minimum fees. So immediately I decided to visit the center and joined MSCIT course.  Many thanks to teachers and the founder of this organization for creating such a golden opportunities for BPL category students to learn IT. I don't think that I will able to join the MSCIT if Aryaloka doesn't exist.   After the completion of course immediately I got job in private company and started earning 6000 Rs. Per month."
Now I am helping my father, sister and brothers as well. I feel proud that I can help them.