Name –  Miss Komal Raju Sarve
Age – 22years as on 2017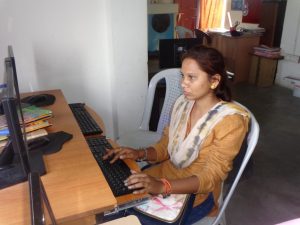 Komal Raju Sarve was 21 when she first approached Aryaloka Computer Education in Jan 2016, having heard about the course provision from a field worker, distributing course information leaflets to slum areas in the Pili Adi district off the Kamptee Road in Nagpur. Her family was in a desperate situation; her father had been made redundant from his full time work with a private company when the firm had collapsed 5 years ago. He had been unable to find any more work since that time and though his wife, Komal's mother had taken menial work in a school office, as an uneducated lady she was unable to earn enough to support the family on her monthly salary of 3000 Rupees. Komal has two brothers, both still in school, (10th Standard and BA First Year) and a sister who, suffering from a blood disease, is not only unable to work but has significant medical care costs.
Komal herself was unemployed but very keen to begin working and help support her family. She approached Aryaloka and requested a visit, applying to study the four month MSC IT course soon after reading the information pamphlet. This diligent student participated enthusiastically in the full study programme as well as benefiting from the additional Personal Development and Self-Defence workshops offered to students. Such was her success that three of her friends have also joined the course since seeing how well she did under the guidance of the skilled and supportive teaching staff at the Institute. Since completing her studies, this conscientious 22 year old has been able to find employment in a private office doing administration and other computer based tasks. She is no longer dependent on her parents, fully managing personal expenses on her own 3000 Rupee per month income, as well as improvement in their living standards, Komal is not content and knows they can achieve better. She has now resolved to continue her studies and will soon enroll on a course at Aryaloka where she will learn Tally; skills in this programme will enable her to find better paid work in an accounting firm and contribute still further to the well-being of her family, as well as improving her own prospects.
Komal said she enjoyed the course a lot and the teachers were "very helpful".